PLEASE "LIKE" SWEET SAMANTHA'S FACEBOOK PAGE! All New Cakes & Classes will be posted there!
GIFT CERTIFICATES! THE PERFECT GIFT! $200( Expire 1 year from date of purchase )
Give the gift of a private lesson to someone you love! 2 Hrs of learning for $200 - Custom theme per class ( Your choice baking/decorating, includes up to 2 people for this price )- Additional persons up to 6 guests may participate at $30pp more...ALL private lessons at this rate take place at Samantha's Springfield NJ home kitchen. See below pricing for group private classes & events at your location or see Party page for special events.
-----------------------------------------------------------------------------------------------------------------------------------------------------------------------------
FUN NIGHT OUT!!
Calling all Moms night out, co workers, couples, friends, families! Sweet Samantha will teach and entertain your next group gathering while you choose to either drink, eat and watch with tasting, OR be hands on learning how to bake & decorate!! Pricing is either $40 ( demo & tasting / some hands on ) or $45 ( hands on decorating and take home ) per person with an 8 guest price min. -- -See below for ideas or let Samantha know a custom theme you might like to work on ! All classes will be 2 hours of fabulous baking or decorating! Hosted in your home, Sam will bring all ingredients, recipes, tools and boxes needed for your event. Proper oven space & microwave required for most classes. ( * Pricing is for towns surrounding Springfield within a 10 min drive. - All other locations additional travel fees will apply, see below ) Don't have a location to host? Contact your local MICHAELS craft store - they will offer you the party room at no additional charge to host your event in! Contact Samantha to Schedule a date!
$40 pp. Classes ( 8 person min charge )
1) Classic Cake Baking - Includes Sams favorite Vanilla, Chocolate Cake, Red Velvet, - Paired with a simple American Swiss Style buttercream, dark chocolate ganache , & cream cheese frosting. Guests will learn about measuring, proper temperature, tools and simple decorating ideas! Tasting and recipes included in this 2 hour class
2) Awesome Cookies!
Includes Italian Ricotta lemon cookies, chewy chocolate chip, Mandel bread ( * Sams grandmothers recipe, a cross between a biscotti, chocolate chip & snicker doodle - they are amazing! ) - & glazed oatmeal cookies.
Tasting, recipes and take home of any left over in this 2 hour class!
3) Quick Breads, Muffins & Coffee Cake
Learn to make a fabulous NY Style crumb cake, piled high with soft giant crumbs! Double Chocolate bakery style muffins, blueberry muffin tops and an easy apple spice loaf with maple drizzle. Yum!
4) Candy Making!
Indulge your inner child while you learn to make Sea Salt Caramels, Homemade Tootsie Rolls, Russel Stover style cream filled candies and easy chocolate fudge! This is part demo/part hands on with lots of sweets!
5) All about Fillings and Frostings!
Grab a spoon! This class will feature how to make cookie dough frosting, cannoli filling, chocolate whipped cream, & lemon curd fill! Sam will bring pre made assortment of edibles to taste & pair your fillings with!
6) Fun Flavor Cupcakes!
Learn to bake Cocoa cola cupcakes, Smores cupcakes ( Including hands on kitchen blow torch fun! ), From Scratch Raspberry Jello Cupcakes with Fudge Frosting & Lemonade cupcakes with white chocolate buttercream!
---------------------------------------------------------------------------------------------------------------------
$45 Per Person Hands on Classes ( 8 person min charge )
1) Fondant! Learn how to make Sweet Samantha Fondant from scratch, buttercream and then cover a 5" round single layer cake, and how to do simple trim such as rope or ruffles, as well as 3D bow, roses and how to use & work with various molds, cutters and embossing mats( Sam brings a fun assortment ) Guests get to go home with their awesome cake creation!
2) Fashion Cupcakes!
Guests will learn how to make rolled buttercream and how to sculpt 6 different handbag cupcake toppers! We will also make American buttercream and learn hands on piping techniques, & embossed toppers! - Go home with a 1/2 doz fun cupcakes!
3) Emoji Cookies!
Impress all the teens with this fun theme of learning how to decorating simple store purchased round cookies into awesome emoji symbols! We will make rolled buttercream for the base and work with fondant and piping to make 6 adorable icons... !
4)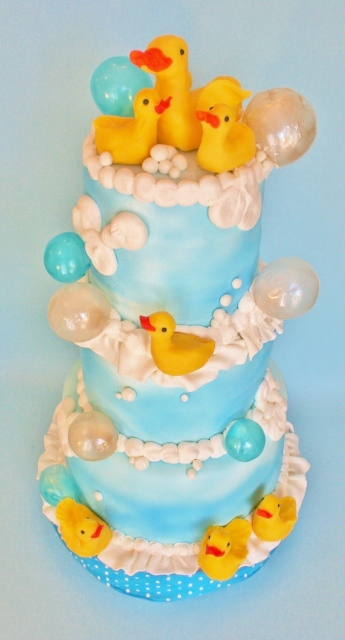 Modeling Chocolate Baby Duck cake!
This class will teach how to make & work with modeling chocolate ( we will be making mini rubber ducks ) - How to cover a cake in marble swirled buttercream and style with pearls, simple piping tips and how to make gelatin bubbles! ( We will not make them in class but recipe will be given. ) Each person will go home with a 5" single layer decorated cake.
5)
Sushi Cookies! So great to create a platter of fun and interesting sushi inspired cookies! We will do marble effects, texture imprints, hand sculpting and more! Leave with an impressive realistic and tasty 6-8 sushi cookies!
Additional travel fee for distance from Springfield, NJ - 07081 - based via mapquest directions ....
5-10 min = $20 additional
10-20 min = $30 additional
20-30 min = $55 additional
30-45 min = $65 additional
45-60 min = $75 plus.... additional
-----------------------------------------------------------------------------------------------------------------------------------------------------
SWEET SAMANTHA CLASSES
All classes to take place in Springfield NJ. All 6 Week classes take place at the Springfield Community Center and are for ages 8-16 ( Kids ) - All Group classes take place at Samantha's Springfield NJ home kitchen location and are for adults.
Contact Samantha to register - all classes to be paid in full upon sign up - samilynn9@aol.com (973) -445-1620
Classes with less than 4 guests will be canceled and refunds issued. If bad weather occurs, Samantha will as well reschedule or offer refunds.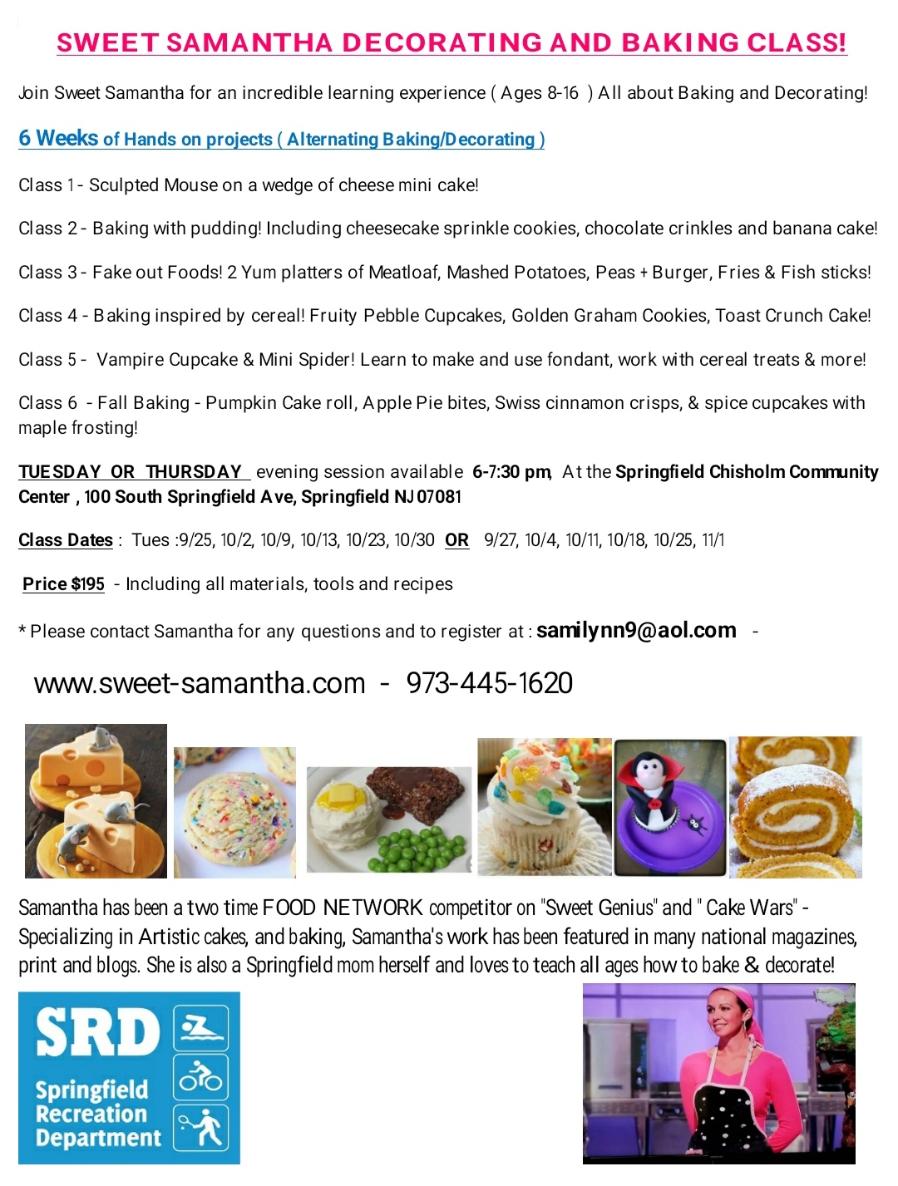 PAYPAL LINK BELOW - SEND PAYMENT TO Samilynn9@aol.com